ABOUT US | WHAT IS SO SPECIAL ABOUT THE IP LEARNING PREPARATORY COURSE FOR THE OLQE 2020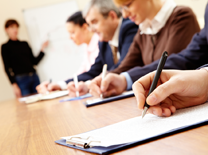 IP Learning is a professional training company run by lawyers for lawyers. Our mission is to provide legal training courses of the highest possible quality. We offer a range of training courses to the legal profession, including the highly regarded IP Learning Preparatory Course for the Overseas Lawyers' Qualification Examination.
We offer a wide range of courses to accommodate the different needs of our clients including:
The IP Learning Preparatory Course for the Overseas Lawyers Qualification Examination
The IP Learning Preparatory Course for the Hong Kong PCLL Conversion Examination
The IP Learning Higher Rights of Audience Advocacy Training Course
The CPD Courses
Examination tuition for degree programmes
Our educational philosophy is founded on the principles of active learning and our courses are planned on the basis of four phases of learning:
Learning by doing
Learning through sharing
Learning from feedback
Learning through reflection
Each of these phases will apply to the HRA Course which will employ the NITA method of advocacy training.
This structure is based upon our experience that our clients learn most effectively when they are actively engaged in performing practical tasks and working out solutions to problems, whether in the classroom or in the workplace. Wherever possible, we promote working in small groups and encourage interactive discussions. Our expert tutors are readily able to give personal tuition and to respond rapidly to the widely differing interests and needs of individuals.
IP Learning's courses are designed to be both efficient and enjoyable. We are very conscious that your time is a very valuable commodity and we therefore ensure that each of our courses provide the maximum returns for the same time spent.
WHAT IS SO SPECIAL ABOUT THE IP LEARNING PREPARATORY COURSE FOR THE OLQE 2020
Our Interactive Examination-Focused Teaching Method
Our teaching method reflects our fundamental philosophy that you will learn most effectively by working out practical solutions to the type of questions that you will meet in the actual examination.  Research studies show that students retain less than 25% of the information delivered by the traditional lecture format but that the retention level goes up to 90% when the students take an active part in the learning process.  We therefore teach using a highly effective interactive teaching method which will give you the best possible chance of passing the OLQE 2020. 
Our Personal Attention to You
We teach using small group seminars focused on ensuring that you develop the practical skills necessary to achieve success in the OLQE 2020.  In order to ensure that you receive individual attention, we limit the number of participants attending our interactive seminars.  Once the number of candidates attending exceeds the optimum number, we run a parallel series of seminars rather than compromise the quality of our seminars. 
Our Expert Teaching Team
The IP Learning Preparatory Course for the OLQE 2020 will be taught by the same distinguished team of practising Hong Kong lawyers which has over the years helped numerous foreign lawyers pass the OLQE and qualify as Hong Kong Solicitors.   Each of our main lecturers has taught on our Course from the start and each has a wealth of experience preparing candidates for the OLQE.
The flexibility to attend in person or study at your own desk
We stream all our interactive seminars live on the internet.  This will allow you to participate fully in the interactive seminars even if you are unable physically to attend a particular class.  You will be able to benefit fully from the interactive seminars whilst sitting at your own desk or even whilst overseas.
Concise Examination-Focused Course Notes
You will receive a full set of written course notes concisely setting out the applicable legal principles and the cases in a manner which is both easy to understand and easy to incorporate into your answers during the open book OLQE examination.
Our Pre-Recorded Lecture Series
We have prepared a full pre-recorded lecture series for each head of the OLQE 2020.  These pre-recorded lectures can be easily downloaded onto an iPhone or MP3 player and listened to whilst travelling or during spare moments.  By listening to these pre-recorded lectures, you will be able to become fully familiar with each topic in advance of our interactive seminars, thereby ensuring maximum possible return from the contact teaching time.
Mock Examination
During the Course, you will be given the opportunity to sit a Mock Examination which will be individually marked by your lecturers.  The detailed feedback provided by the lecturers will allow you to know, well in advance of the actual examination, the areas on which you will need to concentrate in order to ensure success.
The IP Learning OLQE Discussion Forum
On registration for our Course, you will be able to access the IP Learning Online Discussion Forum.  You will be able to use this interactive forum to discuss progress, post questions and to suggest answers to questions posted by other candidates.  Our expert teaching team will monitor and respond to questions posted on the Discussion Forum.  By using the Forum, you will be able to obtain rapid clarification on any area of uncertainty.